X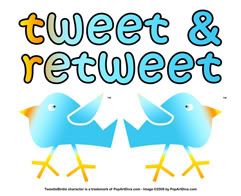 I just finished four designs for my new Zazzle store:
TweetleBirdie - Fun Stuff for Twitter Fans and Other Social Media Lovers.
I also have two other stores
The PopArtDiva Gift Gallery
and
The Martini Diva Boutique
- both of which I am currently adding designs to as I get them reformatted.
I'm switching over to Zazzle from CafePress over the next few months because of commission payment changes at CafePress. But interestingly enough I've been looking at Zazzle anyway and this just shoved me over a bit faster. I have to say I LOVE Zazzle's customer interface - it's so much more efficient and it allows the designer to give clients a way to personalize if they want - very clever.
It's not quite as easy to set up - not as intuitive - but that's because it's a much deeper interface and allows you to let your customers PERSONALIZE their product, plus it makes more options available on all it's product line. You have a bunch of cool cups, including 2 styles of travel mugs, instead of just one or two, people can pick different tee styles and colors and there's even postage and skateboards you can design! I do wish they had the ceramic tiles though - Zazzle, can you hear me?
Zazzle also has great promotional tools - like an easy to build flash panel that features your products. Check mine out for TweetleBirdie below:
TweetleBirdie






My little window display allows you to stop motion, zoom in on any product, make a comment about the product, rate my products and click to buy right here!

If you're interested in building your own store, check out mine and then click over to their Sell area and "create a store" with your own art. Just click the image below to get started:



Or you can just purchase my fun social networking - social media tees at
TweetleBirdie
------------------------
And you can still get my fun NORMAL CHALLENGED ARTIST design on tees & stuff at The Normal Challenged Artist Shop but only here as I have made the store private and just for my blog and website visitors only!