I am in the process of moving my online POD (print on demand) stores over to Zazzle from CafePress. This is a result of commission policy changes at CafePress that seriously affected the bottom line of my sales profits. From what I'm seeing on Twitter I'm not the only one either.

That being said I want to say that it might be the best thing that could have happened (despite the amount of work that is involved). The customer interface at Zazzle is a much more effective sales arena, allowing you to set up your products to be personalized by your customers in a variety of ways including styles, colors and even adding their own thoughts, names and sayings.

I follow @zazzle on Twitter for their shopkeeper updates and quick question/answer issues. Their response on Twitter is almost immediate which I truly appreciate if I'm working on uploading a new design or creating a new product and need emergency help. (P.S. You can follow me on Twitter as @popartdiva)

Also helpful are the video tutorials at Zazzle's YouTube University Channel - Rob Greenleaf has done an excellent job explaining the Zazzle shopbuilding experience from learning the dashboard right through to training on their store builder software for creating your website store.

I had one little problem with one of the tutorials and posted a comment on that particular video expecting I would have to go back in a few days to see Rob's response. Within an hour I got an e-mail from Rob about my comment/question. Rob works at Zazzle and tried to call me but (silly me) I had a typo in my phone number on my account. That didn't stop him - he then e-mailed me and told me he'd tried to call and would be happy to personally help me with the issue if I provided him with a correct number. I did and within minutes I got a call from him.

Rob spent nearly half an hour on the phone with me! This is an amazing example of superior customer service and support to their shopkeepers. He went above and beyond the call of duty and I have not experienced that level of service in decades - online or off!

Yes, this is going to be a long and arduous process - rebuilding my main store - The PopArtDiva Gift Gallery - and growing my two new stores - The Martini Diva Boutique and TweetleBirdie BUT with this kind of help my job is going to be that much easier.

I encourage any of your artists out there with designs that you think would be great on tees, aprons, cups and other products to give Zazzle an opportunity to help you make money with your art.

And for you artists with hand made, one of a kind creative works try setting up an Etsy store - I'm thinking of doing some hand painted martini glasses for The Martini Diva and that's exactly where I plan to test the designs, promote and sell them!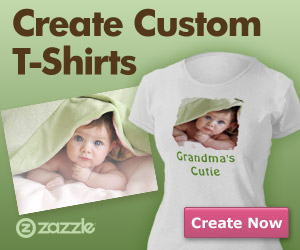 ---------------------------

LEARN HOW TO DO ART AND CRAFT SHOWS FOR PROFIT AND FUN STEP BY STEP
Click the links below to download my articles for a nominal fee of only $2.50 each:
What Kind of an Artist Will You Be? Define Your Product First.
Creating Your Booth - Making a Portable Gallery That Works
Preparing To Do An Art Show - Getting your art, your booth and yourself together
The Most Important Sales Techniques for Selling and Marketing Your Art